Disability Confident Employer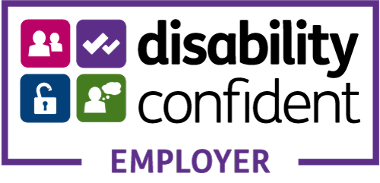 The Government's Disability Confident scheme helps employers fully utilise the opportunities of hiring disabled people. The voluntary programme was developed jointly by employers and disability advocates.
There are three tiers of certification: Committed, Employer, and Leader. Omni is proud to be a Disability Confident Employer and this programme demonstrates our dedication to building an inclusive and diverse workplace.
Our commitments include:
– Making our hiring process accessible and inclusive
– Promoting job openings to all communities
– Offering interviews for qualified disabled applicants
– Anticipating and providing reasonable adjustments, if required
– Supporting current employees with disabilities to help them stay employed
– Implementing new initiatives to support disabled people
This certification acknowledges Omni's proactive efforts in supporting disabled talent in our recruitment processes and our workplace.
We are continuously seeking new ways to improve, and this accreditation shows employees and potential hires that supporting disability inclusion is a true priority for us.
For more information on the Disability Confident scheme visit: https://www.gov.uk/government/collections/disability-confident-campaign