With the first half of 2021 behind us, Omni's Managing Director Martin Wainman looks at the changing workplace landscape and his perspective on leadership for a new era.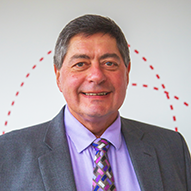 My last update at the close of Q1 focused on the resilience of British businesses and how a renewed entrepreneurial spirit and increased courage was driving recovery. Omni was back to operating at pre-Covid levels after securing four exciting new contracts and establishing a clear growth strategy that would take us into 2023.
Three months on and resilience is still a key theme. However, this time, it applies to our people and, crucially, their wellbeing. Omni is in a fortunate position to be operating at full capacity, which requires maximum productivity from our people. It's a high expectation to place on a team at any time, let alone after a year that has presented an array of challenges and upheaval.
Of course, we are actively recruiting due to our growth, but, as any employer knows, finding the right people and ensuring they are effectively onboarded takes time. Until then, the leadership team at Omni has a responsibility to ensure our people not only have the capacity to take on additional work but that they feel empowered and have the resilience to do so.
It's my job to look after the Omni leadership team, which means stepping in to reign people back and not accepting every 'yes' they give. It requires intuition to see the impact work is having on them, especially when they can't always recognise it themselves. Ignore the signs, and people will buckle under the pressure. During such periods of heightened activity, I truly believe it's the responsibility of leaders to proactively look after the wellbeing of their team.
Without a doubt, my work as a Samaritan has helped me become a better manager and leader. Now in my third year of working with this amazing charity, I've learned so much about the human spirit and resilience. These lessons apply in a work environment too. A huge part of the training to become a Samaritan involves learning to properly listen. When we talk, we're repeating things we already know, but we open up our minds to learn new things when we listen. Full disclosure, I used to be a terrible listener. Instead of actually listening, I'd be thinking about my response and preparing what I would say next. It's a skill I'm not ashamed to say that I've had to learn over time.
As a leader, it's not always my job to find solutions but to listen and help people discover the solutions themselves. Such discovery is integral in helping people to realise their self-worth in the face of challenges, both in and out of work. When it comes to building resilience, coping strategies are integral. Often, we can't stop things from happening but how we cope with them ultimately defines how we'll get through. As leaders, the best thing we can do is provide a toolkit, based on our experience and insight, that helps our employees cope with any challenges facing them. 
Mental health is a significant issue that leaders are becoming increasingly aware of in 2021. It extends further than just providing a helpline; it requires leaders to be hands-on and genuinely look after the welfare of employees and provide a network of support they can tap into and rely on. Once again, we can learn a lot from the Samaritans in that no one is allowed to do a shift on their own – you must speak to a leader at the end of a shift who will ask how you've coped and what you're feeling. This level of support is invaluable and can be applied to support networks in business.
It's not just existing employees that we need to pay attention to. The past 18 months have understandably eroded jobseeker trust, so companies are having to do more to ensure new employees not only buy into their values but believe them too. It's why I spend time with every person that joins Omni on a one-to-one basis so I can get to know more about them and their aspirations, while hopefully reassuring them that we truly believe and live by our culture and values.
Supporting people and ensuring they're engaged with the business, vision and culture isn't just the right thing to do; it's imperative for business success. For any strategy to be truly effective in this new era, employees must be happy, engaged, valued and rewarded. For me, it's about earning the trust and respect of my team and making sure Omni remains the business we say it is – one that always prioritises our people. 
If you're interested in volunteering or supporting the vital work of the Samaritans, visit the website today.