November marks the end of TALiNT's annual Talent Acquisition Benchmark programme – a nine-month cross-sector study into the resourcing practices of businesses large, small and everything in between. We joined TALiNT as they delved into the results and insights at their 2019 Talent Acquisition Benchmark Summit. And, as you'd expect, there was plenty to take away and learn from this event.
Mistrust in tech
The hype about new technology and innovative software is everywhere, especially in the resourcing industry. But while we're certainly seeing resourcing efficiencies improve with the use of technology (more on that later), we're also seeing an increase in technology mistrust. With so many new and different systems appearing on the scene, businesses are becoming hesitant to invest. When they do invest, many are making costly mistakes – something that we covered at The Global Recruiter's event on Digitalisation and Talent.
Key takeaway: Take time to conduct proper due diligence before investing in recruitment technology and engage users early in the implementation process.
Tech vs human contact
Technology has made us more connected than ever before, so why are levels of loneliness and poor mental health so high? Chris Holmes discussed how important it is that businesses focus on the balance of technology and human contact, especially with the arrival of the 4th industrial revolution and increased automation. One of the biggest missed opportunities to engage talent while embracing technology is training. This year's benchmark results showed that half of employees are open to career development and re-skilling, yet half of those employees have no opportunity to do so. Not only is this bad for talent retention, but if you're not engaging your main brand ambassadors, it can also impact talent acquisition too. 
Key takeaway: Listen to your talent and embrace any enthusiasm for career development.
Recruitment triumphs and turkeys
Finally, Omni was invited to run our own session on the results of Recruitment Effectiveness in 2019. This year's benchmark results demonstrated continued improvements in basic recruitment metrics, including the time to hire and cost of hire. This is largely attributed to the wide adoption of recruitment technology that makes managing and monitoring resourcing KPIs easier. 
However, these resourcing triumphs aren't necessarily resulting in improved business performance. The results show that talent acquisition departments continue to operate as a reactive cost centre rather than a profit-enabling business advisor. We challenged the audience to embrace a resourcing maturity model that sees them deliver the results managers want (i.e. high performing talent that create value to the business) not the metrics that justify existence (e.g. time to hire). 
This also involves rethinking the KPIs that show the effectiveness and essentially return on investment. For example, resourcing functions should start measuring the business impacts of a great hire and the ROI that is delivered when that hire gets to productivity faster, stays longer and performs better. 
By moving away from the traditional KPIs of recruitment costs and staff turnover figures to advanced metrics such as quality success ratio, predictive workforce analytics and job satisfaction, you turn reactive cost centres into proactive profit enablers.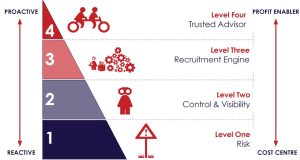 Key takeaway: Deliver high performing talent that delivers genuine business value. 
If you'd like to know more about how you can increase your resourcing effectiveness and take your talent acquisition department from a cost centre into an integral business function, take our REA assessment to find out if our REA tool can help you.