As we face growing talent shortages, greater economic uncertainty, dynamic technology advancement and a desire for flexible work options we need to create choice and solutions for the complexity of today's talent needs whether that be for 50 or 5000 hires per annum.
Workforce visibility, cost management, and compliance with regulation as well as internal processes such as D&I goals add to the complexity of managing a contingent workforce. Increasingly organisations are utilising the expertise that a Managed Service Provider (MSP) can bring through their knowledge of workforce technology, talent acquisition expertise and compliance competency to optimise these concerns.
How do MSPs work?
MSPs are a convenient and cost-effective method of managing an organisation's contingent workers through outsourcing. Which includes temporary, consultants, contractors, freelancers, Statement of Works (SoW) and other non-permanent workers for a company directly and through a supply chain.
An MSP will take over the management of this contingent workforce providing governance whilst focusing on contractor visibility, cost management, process efficiencies and ensuring that the company remains compliant in its treatment of such workers whilst staying true to the values of the brand. An MSP sources temporary workers for a company by working in conjunction with third parties acting as a supply chain. Using a Vendor Management System (VMS), they may both source directly for suitable candidates and reach out to an established network of staffing agencies with their criteria. From the options presented back you will select the individuals you wish to appoint, and they will ultimately consolidate supply and invoicing. Organisations find that by using an MSP they save money, reduce time-to-hire, improve access to talent, control risk, and make more informed decisions about resourcing. Performance can be tracked and reviewed resulting in better optimisation, enabling efficiencies and improvements.
Within the MSP umbrella there are also several different types of offerings. Here, we examine how the various types of MSPs can complement an RPO.
Demystifying the different types of MSPs
Master Vendor – this model uses one primary supplier, the MSP, to source temporary workers for businesses and manage its contingent workforce directly. As an organisation liaises with one single supplier, an in-depth understanding of the business' needs is cultivated, and a quick engagement process is delivered.
It also provides a simple, consolidated solution including hiring process, management information, contractor data and spend / billing through a single point of contact structure and allows for improved forecasting. In the event that workers cannot be sourced, a Master Vendor will reach across a supply chain to other providers to ensure 100% of roles are filled.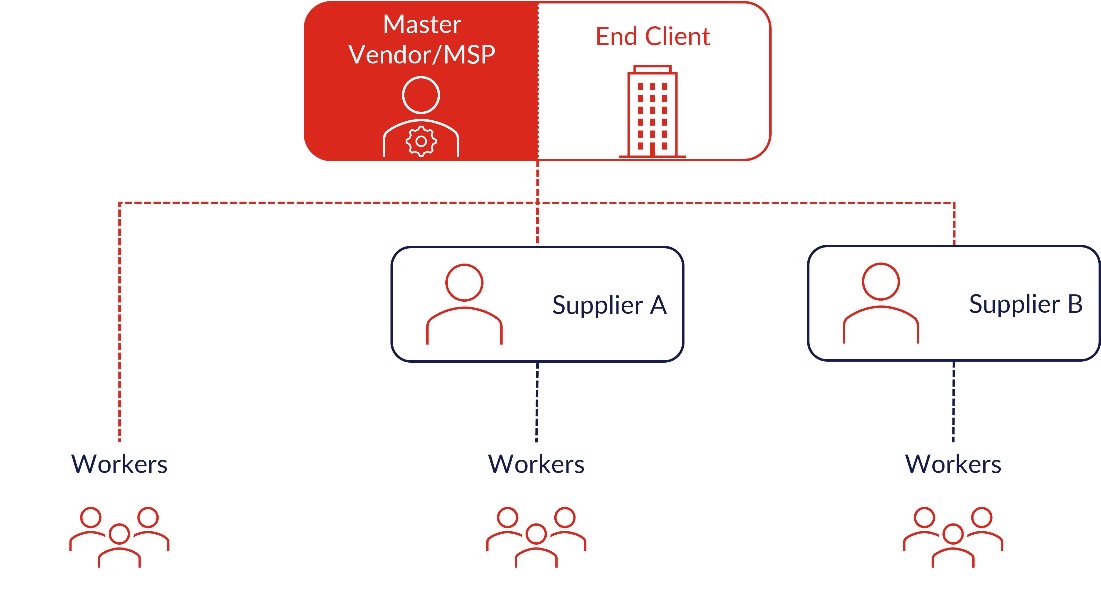 Vendor Neutral – in this model MSPs and suppliers are separate and contingent workers are sourced from several agencies to fulfil a business' requirements. Vendor neutral MSPs do not actively recruit, instead they manage their hires, using an agreed list of vendors and to an agreed rate card. This is to ensure complete neutrality, flexibility and competition to guarantee all roles are filled. This model offers a wide choice of suppliers and candidates; however, it may dilute your companies EVP as multiple agencies are going to market on your behalf. This model is often used in the public sector for fairness and high volume, low barrier to entry programmes.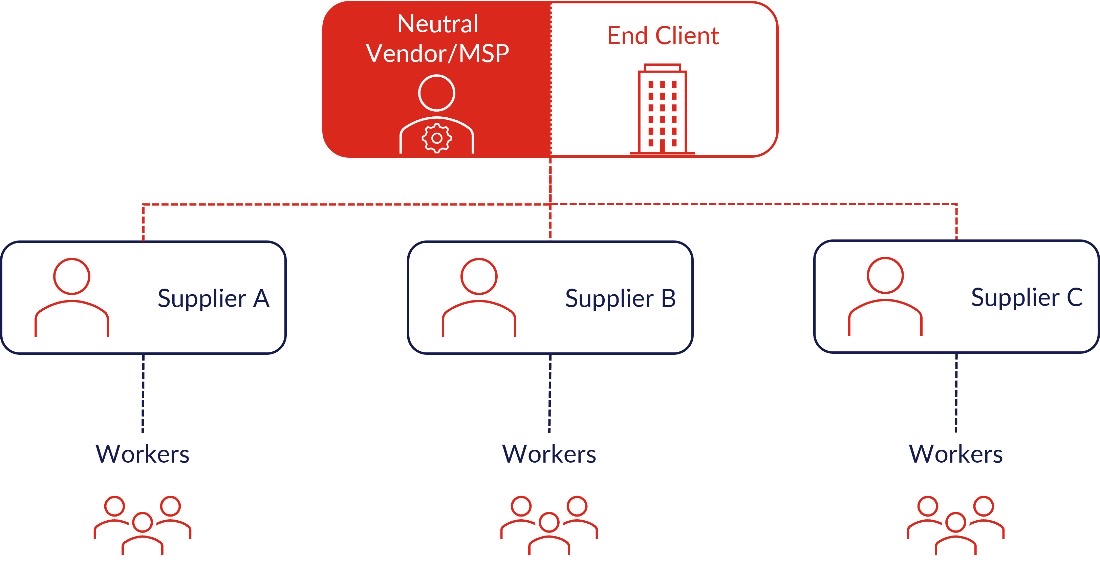 Hybrid – combining elements of both Master Vendor and Vendor Neutral, the hybrid model offers clients flexible options for their staffing needs, which can vary depending on the business' location, function and discipline, as well as the capacities of the suppliers involved. This model is often used to segment specific job classifications or business functions to a specialist supplier whist still sourcing for a full workforce from a supplier network or vice versa. A hybrid model offers clients the benefits of a supplier who can utilise a multi-talent supply chain while still personalising the service it offers.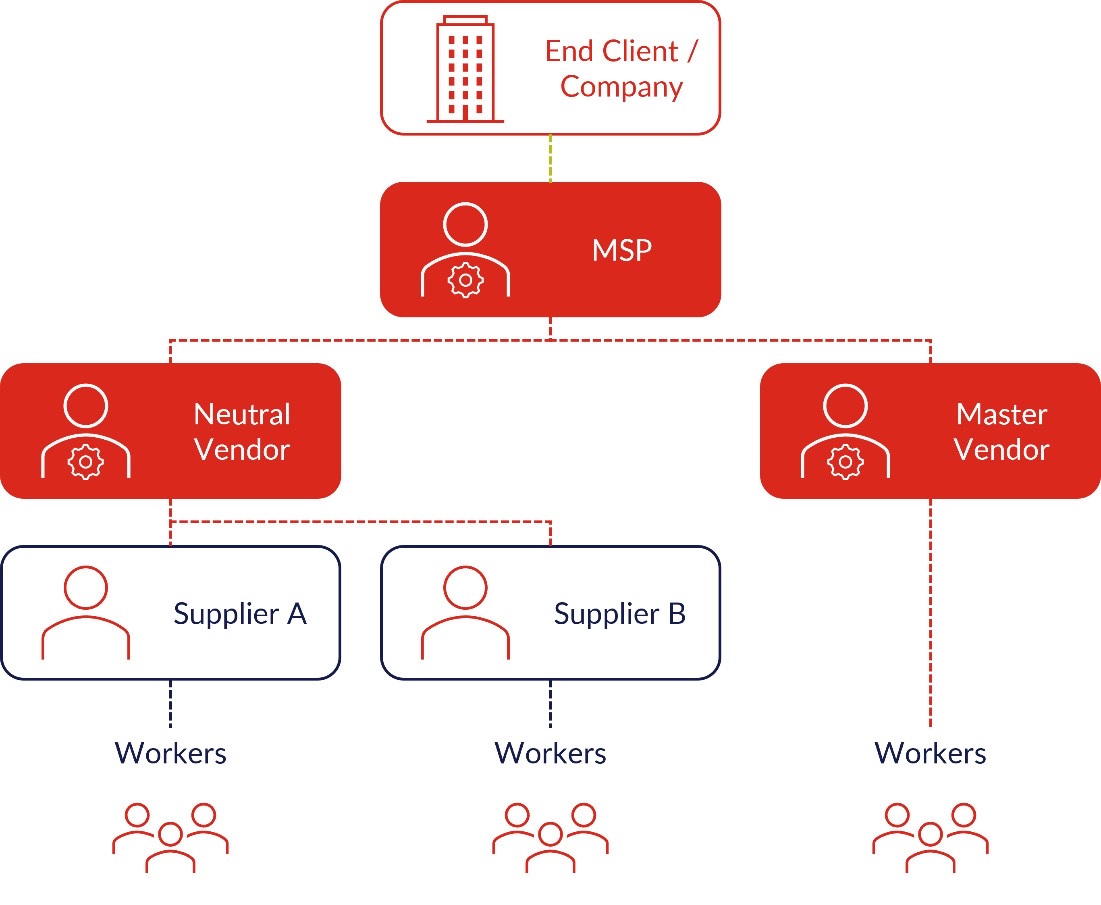 How can MSPs complement an RPO?
Most organisations use a blend of permanent and contingent workers, which adds a further layer of difficulty to hard-pressed hiring teams. MSPs can be used in combination with an RPO. Here sharing the brand values and culture, candidate sourcing, screening / selection, and onboarding candidates through fully embedded recruiters within your HR or Talent teams, provides a flexible and cost-effective solution to all your workforce supply issues attracting the right people for business' needs at the right time.
Find out more about Resource in Motion, resource management for an agile workforce, here.
---