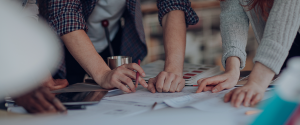 Earlier this week, the PM commented that the country's response to the Coronavirus outbreak proves the notion of 'society' still courses through the nation's veins when faced by adversity. 20,000 ex-NHS workers are returning to the service with a further 750,000 volunteers signed up, signalling that, when push comes to shove, the UK stands up.
A lot of us have seen this spirit echoed in the business world, with most staff accepting the challenges faced and, where possible, redoubling efforts to ensure that we get through this. While this commitment and sense of togetherness will be fundamental to survival and how we prosper in the future, it flags a vital consideration.
If this disruption continues for a prolonged period, sustaining this level of commitment may lead to burn-out and vulnerability to the business, should you experience an increase in staff turnover or sickness and absenteeism.
Our simple steps for managing the impact of the long haul
1. Working smarter not harder is more important now than ever: Given the pressures on business and justifiable concerns around job security, it's natural for people to want to be seen as working hard and totting up the hours. However, now's the time for clear heads, clear prioritisation, effective delegation and an acute sense of where effort matches reward. Operating in this way will ensure wellbeing and productivity is maintained over a much longer period.
Do your key people have the necessary skills to work smart and deliver the outputs required? If not, how can you make this happen?
2. Succession planning and the importance of deputies: With an already depleted workforce, it could get much worse if key workers are out of the business as a result of the virus or the on-set of a stress-related illness. If you're out, who's standing in for you? If they're out, who deputises for the deputy? If the business doesn't have the depth of skills required, what's your contingency? Do candidates exist externally, and do you have plans to engage?
3. Build external talent pools: All the time we hear recruitment organisations talk about 'talent pooling' as a means by which you can pipeline prospective candidates and nurture them should you need to move quickly to hire at any stage. This activity comes sharply into focus in a time of crisis when the potential loss of critical skills could be more disruptive to a business than ever.
How covered are you across your key job families? If a critical worker is sick or leaves, do you have a talent pipeline in place to cover or will you need to start from scratch? Looking up and planning now will provide greater business continuity if the disruption lasts for a prolonged period.
4. Workforce planning and bridging the gaps: The process of analysing your current workforce, determining future workforce needs and implementing solutions to bridge gaps may feel up in the air when operating in the current business as unusual environment. With normality likely to be some time off, effective use of contingent labour will help to bridge these gaps and relieve pressure on permanent employees. Government intervention postponing changes to IR35 legislation until April 2021, means that using contractors remains straightforward for the time being and can be explored to maintain business continuity until your business stabilises and permanent hiring resumes.
About Omni Resource Management Solutions
Omni RMS is an award-winning resourcing transformation specialist and provider of recruitment outsourcing solutions, including managed service provision for contingent workers.
We work with organisations (both public and private sector) across the UK to help them change the way that they resource for the better, enabling them to improve their recruitment effectiveness ranging from support with workforce planning to the design and delivery of recruitment strategies.